The Libertarian Party of South Dakota has officially endorsed Initiated Measure 27, the Marijuana legalization measure that is on the ballot this November 8th. The voters of South Dakota already approved a Marijuana legalization effort in 2020 only to see it over turned by the State under the misguided interpretation of the "one subject" rule for Constitutional Amendments. IM 27 is our chance to do it over again, this time as an Initiated Measure instead of a Constitutional Amendment to avoid a challenge in court once again.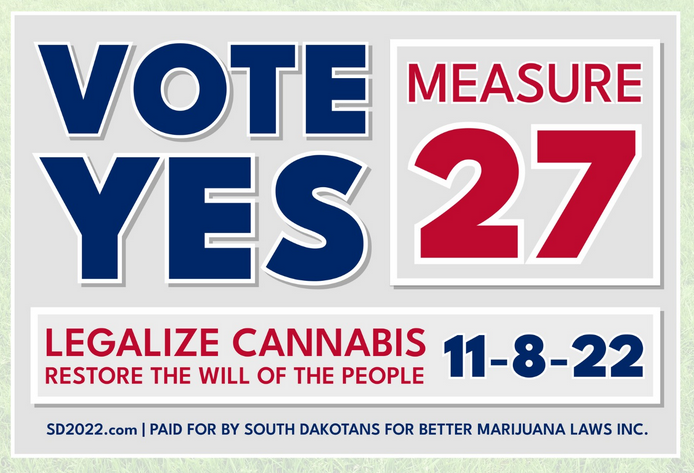 "The Libertarian Party of South Dakota supports efforts to decriminalize and legalize Cannabis, we feel this is just one small step in the right direction of not arresting individuals for victimless crimes and it will let our overburdened Criminal Justice system focus on real crimes with victims, violent crimes." – State Chairman Greg Baldwin
Below we have included quotes from all of our 2022 Candidates that have endorsed or support Initiated Measure 27.
Darren Freidel for Senate District 33 had this to say, "The voters already approved recreational marijuana in 2020. I think the people of South Dakota have made their feelings known about the issue. This measure will bring business and income into this state. The negative effects of alcohol far outweigh those of marijuana. It's time for South Dakota to catch up to it's neighbors and approve this measure."
Sean Natchke for State House District 29 gave this statement, "I do support the legalization of Marijuana. Ultimately I will follow the will of the people but I have friends that's are teachers in Colorado and they have directly seen the vast improvements and acquisition of resources for their classroom and schools because of how much is funneled through the revenue of marijuana. With South Dakota being one of the worst paying states for educator salaries, I feel this would be an amazing step in the direction of fixing that issue and supporting our children and their futures."
Rene Meyer for State Auditor had this to say about the issue, "I am running for State Auditor so that i can find the corruption and see the books. Follow the money if you want to find corruption. I do support decriminalizing plants that have medicinal value like Cannabis."
Tamara Lesnar for US Senate gave this statement on a recent episode of the Hedgehog Watchdog Podcast, "I am totally in favor of legalizing Marijuana at the State and Federal level. It never should've been a schedule one drug."
The Libertarian candidate for Governor Tracey Quint gave this statement on the subject of IM 27, "I 100% support IM 27, especially since the citizens of South Dakota already voted in support of it. If elected, I promise to support the will of the voters and not fight against them." To learn more about Tracey please visit Quint2022.org for more information.
Libertarian US House candidate Collin Duprel gave his endorsement with this statement, "Whereas, Recreational Marijuana was clearly the will of the People in 2020, I endorse IM 27, and supported it then and now." To learn more about Collin or get involved please visit CollinforCongress.com
For more information on our candidates please visit the above links. If you would like to stay up to date with the LPSD please sign up for our email list here.